Did you know that Valentine's Day isn't just a department store commercial invention? Beyond marketing, gifts, travel and romantic dinners, it hides a story as singular as it is fascinating that deserves to be known. February 14 actually symbolizes the will of a pope to put an end to certain pagan customs still practised in Rome. It also gave the opportunity to glorify the figure of a valiant priest.
February 14 through history
Many historians say that Valentine's Day is an invention. It would be an ingenious ploy of Pope Gelasius I in 495 AD to end the festivities celebrated in Rome in honour of the Roman god Lupercus, protector of fertility and flocks and associated with the sacred wolf Of March.
The shepherds but also a large part of the Roman population eagerly awaited the arrival of these festivities between February 13 and 15. On this occasion, they paid homage to the she-wolf of Rome. According to legend, she had breastfed the founders of Rome: Romulus and Remus.
The Catholic Church therefore intentionally created a religious holiday on February 14 in order to do away with this pagan tradition. This is how Valentine's Day was born, in an effort to end the archaic Roman rites related to fertility. Over the centuries, this day has gradually become the day to celebrate lovers. However, the Church withdrew this celebration from the Catholic calendar in 1969 under the papacy of Paul VI.
In fact, the Second Vatican Council felt that the myth was too mixed up with the legend. However, in 2014, Pope Francis wanted to rediscover this holiday and give it a religious meaning again. He thus celebrated a mass where hundreds of couples came to pay homage to the character of Saint Valentine.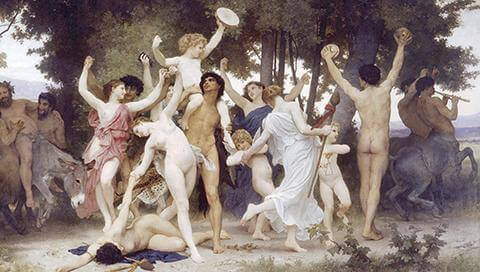 Who was Valentine's Day?
Valentine's Day therefore existed. Archaeologists have thus found relics of this character in Viale Maresciallo Pilsudski located in the district of Pinciano in Rome. The cult of his person and other relics also appear in other countries. For example, at the Parish Church of the Assumption of Saint Mary in Chelmno, Poland. But also in Saint Stephen's Cathedral in Vienna, Malta and also in the Church of Blessed John Duns Scotus in Glasgow, Scotland.
Its history, and therefore that associated with the feast of February 14, begins in Rome in the third century.
Claudius II: The emperor who forbade soldiers to marry
In the 3rd century AD, the Roman Empire was struggling with many problems. The first of these problems was related to the threat of the Goths. The second was a labour shortage. And this, both in the countryside and in the ranks of the Roman legions. The emperor, therefore, needed strong and dedicated soldiers. It is for this reason that he made such an unusual and surprising decision.
He indeed forbade the soldiers to marry. According to him, a man without a family was more committed to his emperor and more determined in the battle. Christians were also the third problem of the Roman Empire at this time. The latter persecuted them, tortured them and killed them. It is in this context that a very special character appeared.
A courageous priest
In certain texts such as the Golden Legend by Jacques de Voragine but also in the Nuremberg Chronicle of 1493, it is about a courageous priest of great character who was dedicated to protecting Christians. He also defended traditional marriage and secretly married soldiers to their partners.
This obviously aroused the wrath of the state and Saint Valentine was then brought before the court of Rome to be tried by Asterius. The judge told him that if he was truly a saint, then he should be able to restore sight to his blind daughter. Valentine's Day did. This is how he not only escaped death but also converted Asterius and his whole family to Christianity.
However, the relief of being acquitted was short-lived. Shortly after, Emperor Claudius II imprisoned him again. He had had enough of his provocations. He was furious with this man who was also becoming far too popular in Rome.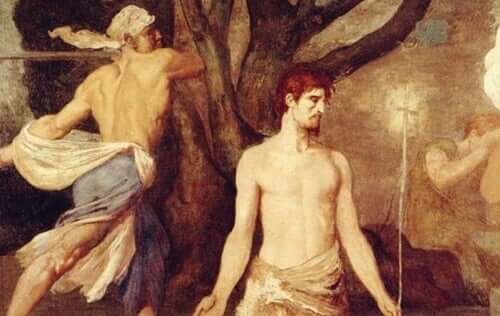 He was quickly tried and sentenced to death. However, before being stoned and tortured, Valentine was allowed to write a letter. It was intended for the young girl to whom he had restored his sight. We can see it as a love letter. Still, others see it as a farewell letter. Anyway, it is from this letter that the tradition of sending letters and messages to those who are dear to us was born on this date of February 14th.
After this final favour, the priest was stoned with sticks and stones. He was later quartered and beheaded at the Porta di Flaminia on February 14, 269 AD. in front of the whole square.
Geoffrey Chaucer and the romantic tradition of Valentine's Day
Historian William Federer explains that this somewhat dramatic vision of Valentine's Day with its martyrdom and end was softened by the poems of Geoffrey Chaucer. This 14th century English writer, philosopher, diplomat and poet associated February 14 with courtly love. This is how this celebration gradually lost its religious character. It then became a more intimate, more romantic and, in a way, more elaborate party.
In his poem Parliament of Crowds, Geoffrey de Chaucer in 1382 describes how a lover gives his beloved a letter on Valentine's Day. Later, we find testimonies on how this practice was established in the English court and then in the court of the King of France.
Thus, the Duke of Orleans sent a letter to his wife containing a moving poem on this particular date. He wanted to remind her of his love while he was being held in the Tower of London during the Battle of Agincourt in the 15th century. We can therefore see that this celebration is associated throughout history with many accounts. This romantic tradition has continued over the centuries. And this, until today.
Ultimately, love remains an unwavering force that always inspires us and gives us life. So let's celebrate Valentine's Day not only every February 14 but also, why not, every day of the year!