Did you know that consumers spent $ 6.16 billion on St. Patrick's Day in 2020? Yes, despite the pandemic, St. Patrick's Day still aroused a lot of enthusiasm!
In 2021, even if the health crisis persists, this holiday can be celebrated. Consumers are always looking for new opportunities to connect with their loved ones. So, why not take advantage of this Irish event to boost your marketing strategy?
Make way for 5 ideas to integrate your products and services into the celebration of St. Patrick's Day …
1. Go green!
Green is the flagship colour of St. Patrick's Day. So, on March 17 redefine your graphic charter to put your prospects in the mood! Here are some ideas for bringing green to the fore:
Group your green products to create a thematic exhibition around St Patrick's Day. Place them on the home page of your online store or in your store window.
Offer free shipping on green products.
Create an Irish version of your logo incorporating shamrocks, leprechauns and the colour green.
The colour green is also associated with prosperity and wealth: take the opportunity to create animations, publications, stories and other formats that enhance the success of your business. Of course, the graphic charter of this content must be green!
You can also give a green gift to users who shop on St. Patrick's Day.
2. Awaken the green conscience of your community
Ecology is a trending subject that is of increasing concern to consumers. Take advantage of this day to promote your ecological commitments and encourage your community to spend a green St. Patrick's Day, in every sense of the word! For example :
Offer to donate a percentage of the profits made on March 17 to an environmental association.
Organize a promotion on your greenest items.
Introduce environmentally friendly initiatives like planting trees, saving paper, recycling or using reusable packaging.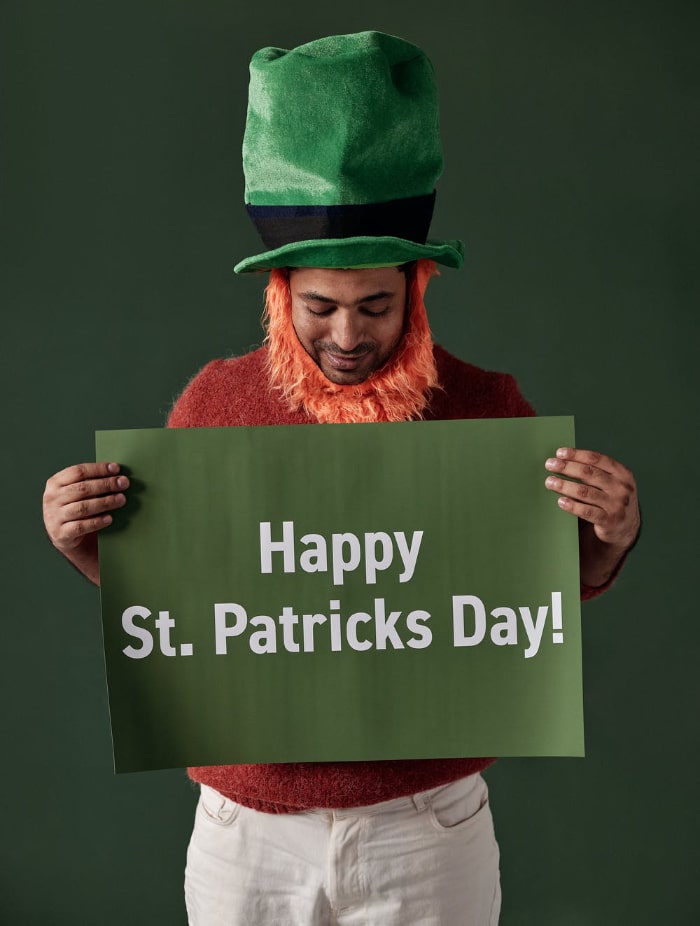 3. Launch special St. Patrick's Day campaigns
You can generate buzz and brand awareness by launching St. Patrick's Day campaigns ahead of time.
The goal: to help consumers prepare for this special day with your products or services.
If you sell food, come up with Irish recipes and drinks to make by March 17th.

Create

promotional videos

by integrating your products and services in a St. Patrick's Day atmosphere.

Offer a free trial or gift certificates valid until March 17th.

Organize lives or

podcasts

to interact with your customers on St. Patrick's Day. You can even organize a virtual aperitif with your most loyal consumers.

Launch goodies

for the occasion: t-shirt, tote bag, pin's, beer glass …
4. Calling on "Irish luck"
The famous 4-leaf clover is a lucky charm known all over the world. However, on March 17, it is found everywhere!
You can capitalize on this symbol to organize contests and give gifts to your customers.
Organize

contests on social networks

to recruit new subscribers, while building loyalty in your community.

Install a wheel of luck on your e-commerce to allow customers to receive a gift or a discount voucher during their purchases.

Offer to refund a shopping cart every 100 orders, for example.
The fun side of this meeting will inevitably appeal to your audience, improve your image and create links with your prospects or customers.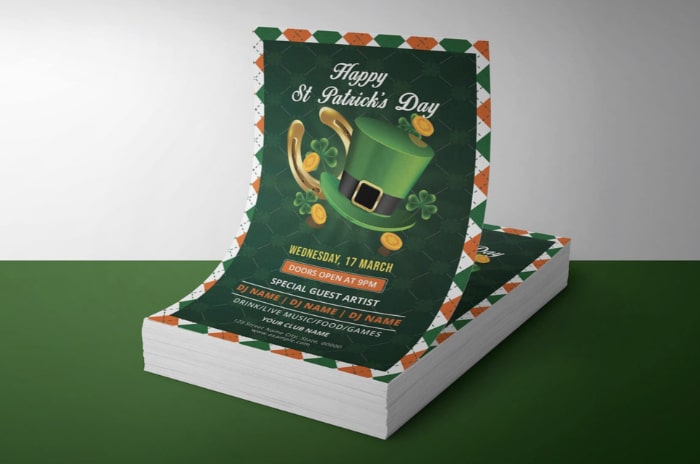 5. Focus on storytelling
Exploring myths and legends is a big part of the St. Patrick's Day program. Maybe you can tailor Irish folklore to your brand?
And if not, your customers will surely have great experiences to share!
Our advice

On social media, you can ask them to talk about their best St. Patrick's Day, identify who they want to spend that day with, or get creative by telling the perfect St. Patrick's Day.
Another tip is to ask your community fun questions to bond. For example: "What's the best way to catch a leprechaun? ". Funny answers on the way!
Match this meeting with a competition to generate engagement. Then you can compile the testimonials or responses into a fun video, to share on Facebook or via an Instagram story.
You don't have to be Irish to have fun on St. Patrick's Day! Take advantage of this festive day to establish a connection with your customers and boost your sales.