After the United States government announced that Huawei would continue to be banned for another year, and it was also established that no North American processor manufacturer or that used North American technology could do business with Huawei or ZTE without a government license, TSMC, the The world's largest processor manufacturer would have decided to stop manufacturing Huawei processors.
This has been mentioned by the Asian media Asia Nikkei , which reveals that TSMC will respect the decisions of the government and Donald Trump, although that does not mean that later they will not request a license, but requesting it does not guarantee that the government will grant said license, since Google He has long requested one to do business with Huawei and the government has denied it to this day.
A heavy blow to TSMC
A few days ago TSMC announced that it would put a factory in the United States to manufacture chips, this could undoubtedly benefit companies like Apple, since the Cupertino company is its largest customer today, the bad thing is that Huawei is the second most important customer for the Taiwanese company at the moment.
The only good news for TSMC and Huawei is that all processors ordered before May 15 will not be affected by this decree, as long as they are delivered before September 14, otherwise they will be violating what is imposed by the United States.
Huawei will not sit idly by
Huawei has published a statement in which they describe the US decision as arbitrary and damaging, they even assure that this measure will not only affect Huawei, but also the United States.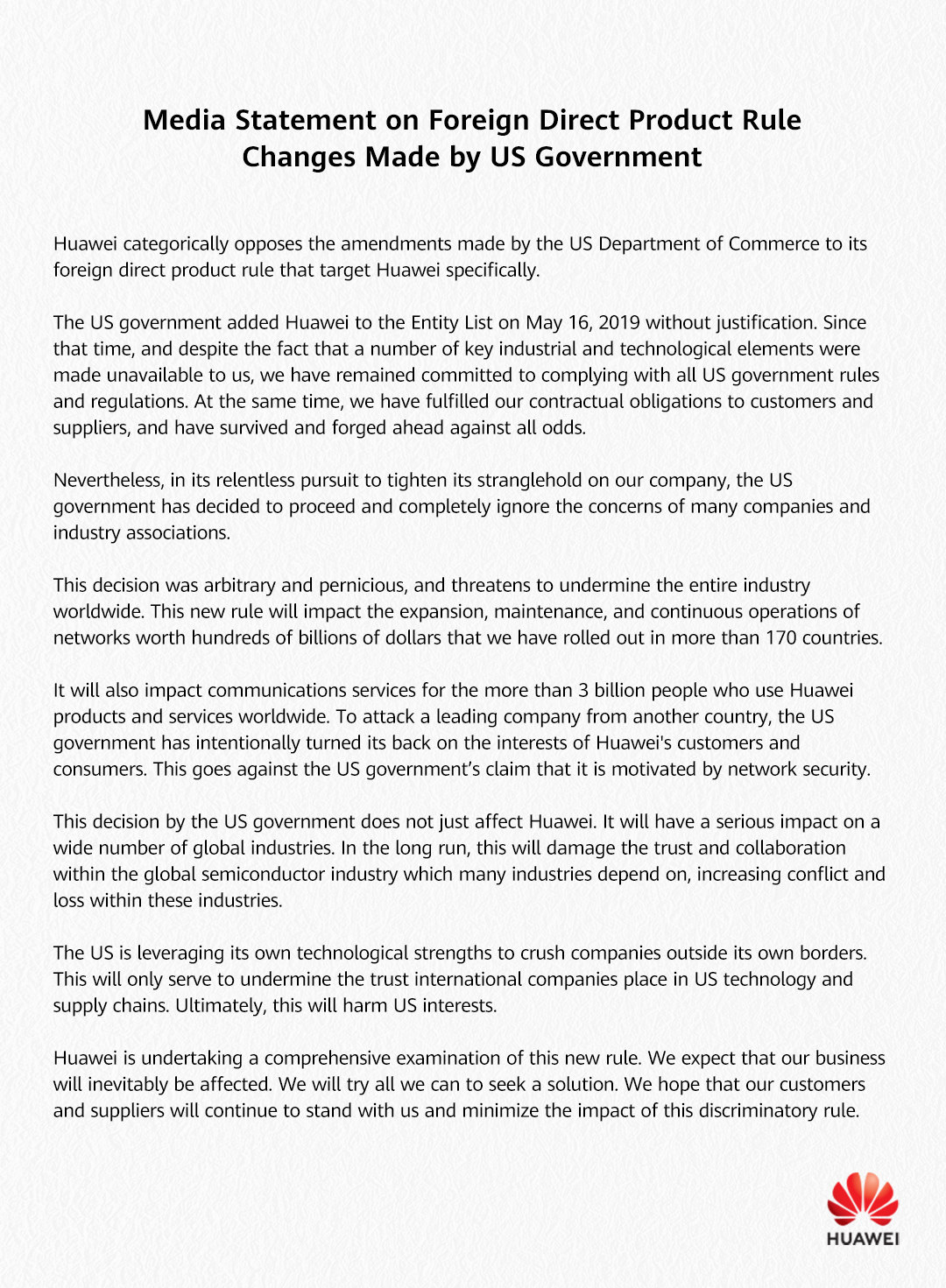 In Huawei they do not deny that this decision will affect their business, in fact, they had already said since last year that the commercial veto would affect their industry, but that they would continue to look for alternatives far from the United States for the manufacture of their equipment.
In the statement, the company ensures that Trump's decision will affect the expansion and maintenance of continuous network operations for billions of dollars in more than 170 countries in which Huawei operates, so that his measures not only affect the company. , but to many other businesses in different parts of the world.
Also, the company believes that this last action will damage the confidence of the global industry in the United States, so in the coming years other companies may prefer to bet on supply chains that have nothing to do with the US due to a possible I veto put your business at risk.
Samsung and Mediatek, a possible solution
A possible "solution" for Huawei would be to move its chip production to China so that they are in charge of Semiconductor Manufacturing International Corp , a company that already has ties with Huawei and is currently in charge of manufacturing the Kirin 710A.
On the other hand, Huawei does not rule out doing business with Samsung, Mediatek or Spreadtrum, companies whose production lines do not have North American technology, so Huawei could order the manufacture of their processors with them, or it could buy the processors of said companies, as Samsung has also started selling its Exynos processors to other companies.