Today, the "League of Legends" mobile game officially released new news. The game will be tested in Brazil and the Philippines in a small-scale Alpha next month. More information about the test will be announced at the end of May.
Skillful outplays. Brilliant maneuvers. The occasional throw. Starting 2020, League of Legends is coming to mobile and consoles! #League10

Find out more: https://t.co/Gk6ipJYYMQ

— League of Legends: Wild Rift (@wildrift) October 16, 2019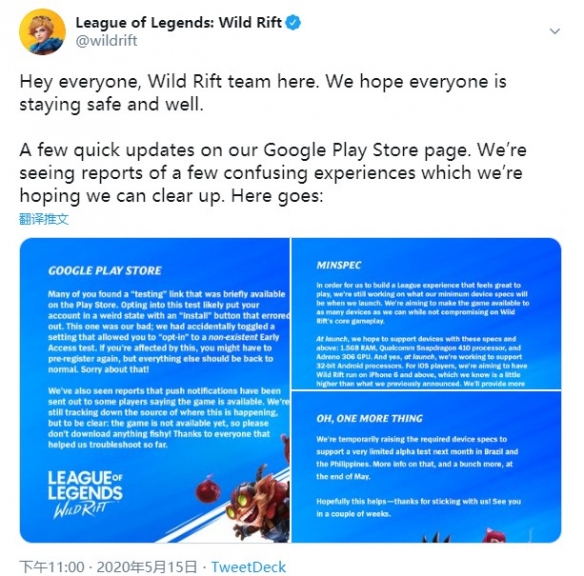 Officials said that some users in the Google Play Store could see the installation options on the "League of Legends" mobile game page. The official made a clarification on this, this is just a wrong operation of the developer.
  In addition, the official also announced the minimum requirements for running the "League of Legends" mobile game on Android and iOS platforms. The Android platform requires 1.5 GB of memory, Qualcomm Snapdragon 410 processor, Adreno 306 GPU, and will also support 32-bit Android processors when the game is released. iOS devices require iPhone 6 and higher.
Hey everyone, Wild Rift team here. We hope everyone is staying safe and well.

A few quick updates on our Google Play Store page. We're seeing reports of a few confusing experiences which we're hoping we can clear up. Here goes: pic.twitter.com/yKlfApOT47

— League of Legends: Wild Rift (@wildrift) May 15, 2020