When one sees a person like Henry Cavill , it is easy to assume that the only thing he is dedicated to is exercising to maintain the imposing physique that catapulted him to stardom with roles such as Superman or Geralt of Rivia .
But the truth is that the actor is a geek dedicated in body and soul to video games (it is well known that when he was called to warn him that he had kept the role of Superman, he almost did not answer the call for playing World of Warcraft ), and on more than one occasion he has made public that he is passionate about everything to do with Warhammer .
About the latter, Cavill has stated that much of his free time is devoted to painting his Warhammer figures and playing Total War: Warhammer , which has motivated users in specialized subreddits to joke about how great it would be have the actor as DLC, embodying Eltharion , High Elf Prince of Yvresse.
And now, the studio responsible for Total War: Warhammer 2 was the one that recognized Cavill's passion and fandom through The Warden and the Paunch DLC , focused on a war between High Elves and Greenskins.
The PCGamesN portal was the one who realized this recognition to the actor, because when he started a campaign in the DLC with Eltharion he realized that the protagonist is helped by a Loremaster of Hoeth named Cavill , who has an ability called "White Wolf" , nickname of Geralt de Rivia , to whom the British give life in the series The Witcher .
This ability grants a +15 bonus against large targets, alluding to the way Geralt is a monster hunter .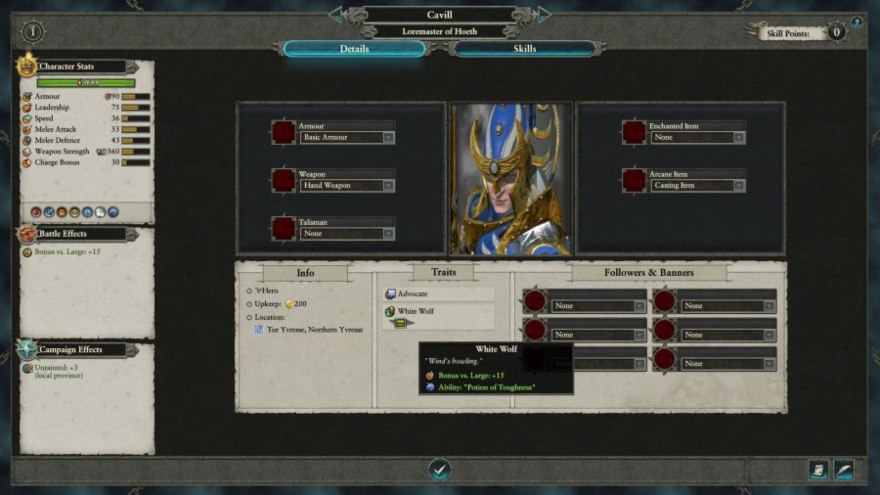 In an interview with the same portal, the director of the game, Richard Aldridge, announced that the wink is not free, since inside the developer Creative Assembly they are aware of Cavill's passion and looked for a way to incorporate it .
The DLC will go on sale this May 21 .