The new 10th generation Comet Lak-S family is now official, and among its ranks they have what claims to be the world's fastest gaming processor to date.
Technology firms do not stop despite the pandemic, and today it was the turn of Intel, which after having made official its 10th generation processors for laptops, now has done the same with desktop computers, which are interesting , because the firm has boasted of having in its hands the fastest gaming processor that the world has seen until today.
Specifically, we are talking about the Comet Lake-S family , which will arrive in Core i9, i7, i5 and i3 models, and which come with 10 cores, 20 threads, 125W TDP and speeds of up to 5.3 GHz, yes, 5.3GHz , a figure with which Intel has been able to say without fear of being wrong that it has the fastest chip, which does not mean that it is the most powerful.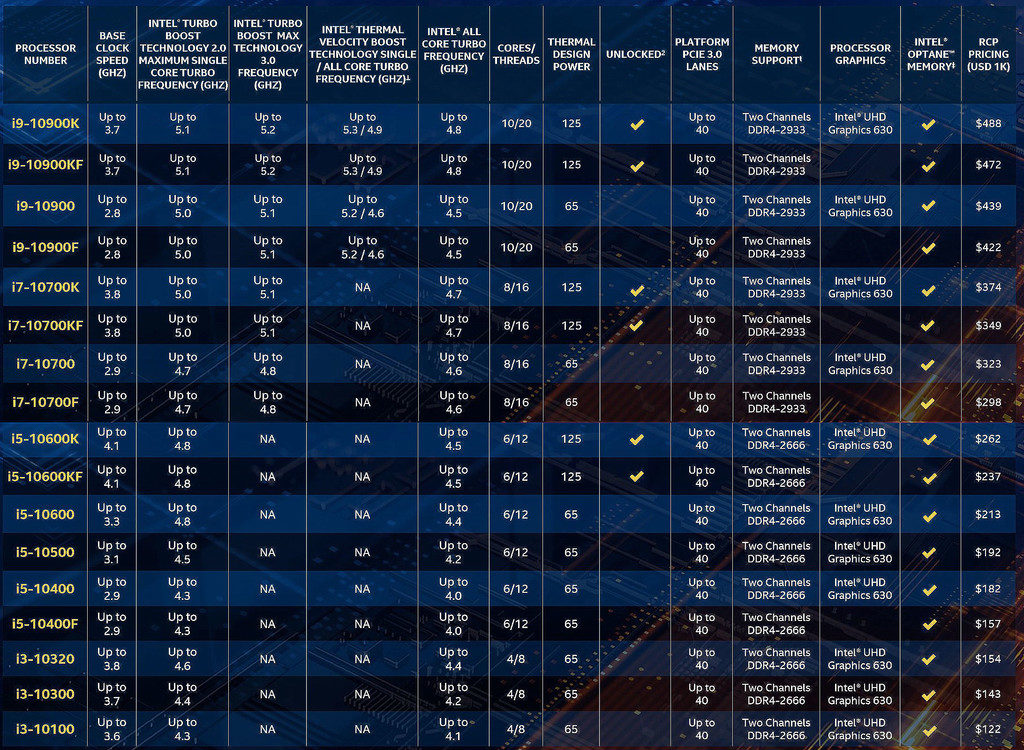 Throwing the house out the window
It is not a surprise to anyone that AMD has made things difficult for Intel in recent years, its Ryzen 3000 series was a bucket of cold water for Intel, and this time they did not want to save anything, so they have presented 17 different variants of its new family, so surely there is an ideal model for you.
Among the varieties of this family we will find that the "simplest" processor will start in the 4 cores at 3.6 GHz, and the most advanced model with 10 cores up to 5.3GHz.
Among the different models, Intel will also offer some with integrated graphics and others without it, and in the case of those that already integrate a GPU this will always be the Intel UHD Graphics 630 , which, although not impressive, its performance is interesting, but it can always be improved with a dedicated GPU.
All users who bet on the new family of processors will also be able to find two great technologies from Intel. For one, we have Hyper-Threading , which improves processor performance by using fewer device resources.
Also, we will find Turbo Boost 3.0 technology and Thermal Velocity Boost , although the latter technology is only available in Core i9 models, and is responsible for increasing the clock speed when the processor reaches a temperature of 70 degrees, of course, this always and when there is power available to use.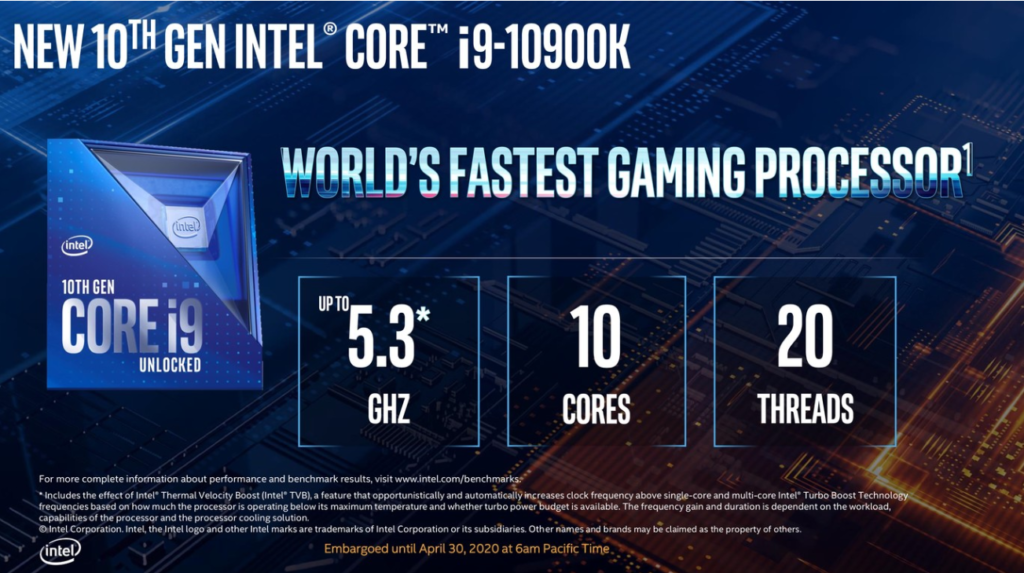 It is thanks to Thermal Velocity Boost that the i9 -10900 can reach 5.3GHz, in fact, if we see in the table we can see that only the unlocked processors for overclooking are the only ones that can reach this speed.
Intel's new family supports DDR4-2933 memory, support for up to 2.5 gigabit Ethernet, and, like the rest of the 10th generation of the line, they have built-in Wi-Fi 6 by default. And absolutely all the chips are based on the Skylake architecture that the firm has been using, but improving since 2015.
Something you should take into account is that these chips are not compatible with Coffee Lak motherboards, so if you want to update your PC with one of these chips, you must take this detail into account.
Prices
The company said that the chips will be available in May.
Prices will obviously depend on the model and whether or not you want them to have an integrated GPU.
In the table Intel has given the prices in dollars for sales above a thousand units, so if you want to buy it individually there is still no official cost, but in the coming weeks we will have more details about it, yes, until to the idea that the most powerful processor will cost more than 480 USD, and that the cheapest model will not sell for less than 3 thousand pesos.